JPHL DEVELOPMENT MODEL
---
TRAINING STANDARDS
Based on our personal experience as professional and junior players, as well as our experience operating Major Junior and Junior "A" programs, we believe our U18 and U15 athletes should receive the following minimum standards:
- 150/hrs of on-ice development (but no more than 5 times on-ice per week)

- 50/hrs of specific skill development:
Skating

Puck skills

Game sense

Technical skill application

Goaltender specific training.

- 100/hrs of off-ice development including:
Mental training

Strength and conditioning

True Move­ment

Sports performance.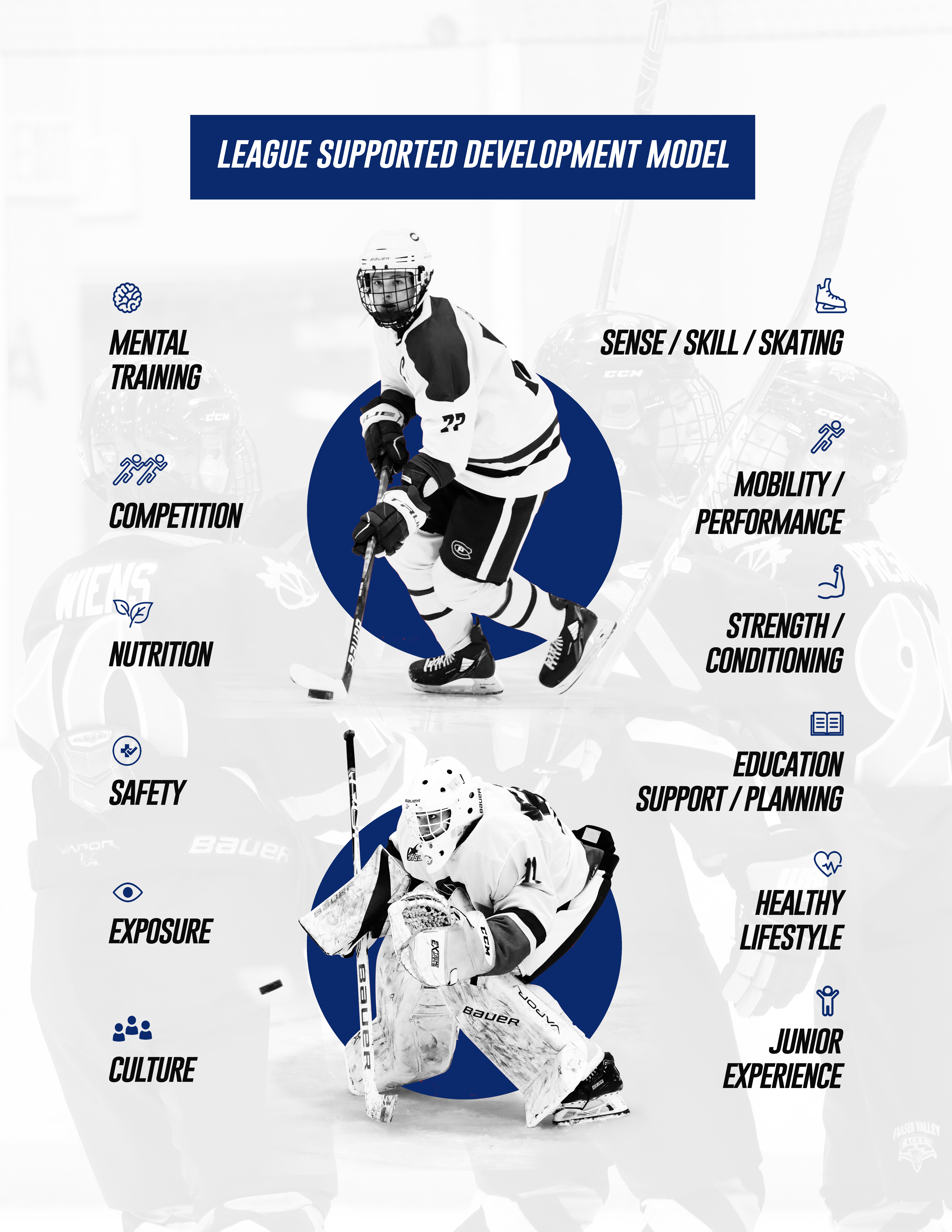 ELITE ATHLETE SERVICES - MENTAL TRAINING
Our aim is to guide and support amateur and professional athletes so they can achieve their maximum potential while they are competing at the highest level and as they transition away from their playing careers. We embrace a holistic approach to health and wellness by providing athletes with specialized services delivered by a team of highly qualified professionals with substantive experience in professional sports. ELITE. Athlete Services focuses on cognitive and mental health specializing in concussion management and recovery, baseline testing, athlete identity change and sports performance. In addition to these specializations, ELITE. has a large network of trusted service providers so that athletes know they are getting the best care possible when they require it.
CONCUSSION MANAGEMENT
The management of sports related concussions (SRC) requires a comprehensive and evidenced based approach. We offer consultation and support to develop an organization's concussion management plan and or policy uniquely designed to meet the needs of the athletes. The end product will include the core components of concussion education, medical management, return-to-play guidelines in order to meet the highest standards of concussion management and policy
CONCUSSION BASELINE TESTING
The core component of SRC management is using evidence based practices combined with gold standard assessment tools. Our baseline testing program includes assessment across broad areas important to concussion management including symptom report, cognition, psychosocial functioning, and balance. Assessment includes Sideline Concussion Assessment Tool (SCAT), standardized mental health screening tools, and advanced neuro-testing powered by Eye-Sync.
Each player will under go:
- Baseline testing
- Medical team training
- Data management (HeadCheck)
- Post-concussion consultation
- Adverse event recovery consultation
POST CONCUSSION REHABILITATION PLANNING AND INFORMATION
Returning athletes to play following SRC should follow scientific practices, not just the completion of a test and a note from your doctor. We offer leading edge post-concussion rehabilitation practices that have been empirically validated through randomized clinical trials.
MENTAL HEALTH ASSESSMENT
Athlete mental health and well-being are unequivocally tied to athlete performance. Growing evidence from the scientific literature correlates variables associated with athlete stress to increased injury risk. We believe that a comprehensive mental health program can play a very positive role in not only reducing injury but enhancing well-being and elevated performance.
SPORTS PERFORMANCE
Having an athlete perform at their absolute best is the main reason an organization invests in them. Performance optimization stems from various aspects such as recovery, injury prevention, sleep, nutrition, and psychology. We can assist in performance anywhere from offering a single presentation or single athlete meeting, up to full long-term organizational planning that analyzes current processes and offers a road map to change using the most up to date scientific practices.
TOUCH POINTS

1 - Expert policy planning and medical structure
2 - Baseline testing for the entire Academy
3 - In person group sessions at showcase events. Each section point would be a 45 minute in person presentation, accompanied by a presentation recording for distribution along with applicable resources to facilitate learning/usage of the topic. (valid for distribution for 1 year as research and scientific evidence is constantly evolving)
PROGRAM EXPECTATIONS
1 - Participation from athlete (attendance to seminars and testing sessions, as well as completion of necessary documentation for mental heath review)
2 - Completion of all baseline testing
3 -Adherence to concussion protocol